As a hobby, I like to tear through my house and redecorate. Sort of "if it doesn't bring me joy," theory. Also, I keep collecting and exchanging things from road trips and travels. I build room themes around things I've collected and dabbled into wallpaper and beyond the builder pallet of neutral beiges and whites.
Another hobby, going down a Pinterest rabbit hole. Focusing on a wall color and seeing what the masses are in love with these days. My latest obsession is redoing my son's bedroom. He's getting to be a teenager. GULP. So I want to update his bedroom into a more adult, defined room for him. He likes to hunt and be outdoors, so a dark wall color to make it look like a hunting lodge or man cave was up my alley.
I know nothing about paint quality, other then Ball and Farrow seems to be quoted by so many media outlets. But have you seen the cost of the paint color? This is a kid's room redo. So I take my Ball and Farrow paint color I researched online and head over to Bloomington Paint and Wallpaper. Inside they have tons of wallpaper books, SWOON. And lots of paint swatches. How much time do I have before school's out? Crap. 30 minutes. Nonetheless, I march to the counter and ask if they can match a Ball and Farrow paint color in Benjamin Moore. I might as well have asked if they could take the coveted red paint on a Ferrari and match it for a 1993 Ford Probe. I will say I had a boyfriend that wanted to take the color from my Camaro and match his truck to it. Swoon, right?!
The guy behind the counter knew exactly what I was thinking. Designer color on a budget. He didn't snicker or become a snob. He told me he would try his best and give me the best paint option to give it a luxe feel. The paint color was super spot on. The color I choose from Farrow and Ball is Railings. Thanks Bloomington and Paint and Wallpaper for the expert advice! -Amanda Richardson
#interiordesign
#ballandfarrow
#roomredo
#mancave
#bedroominsp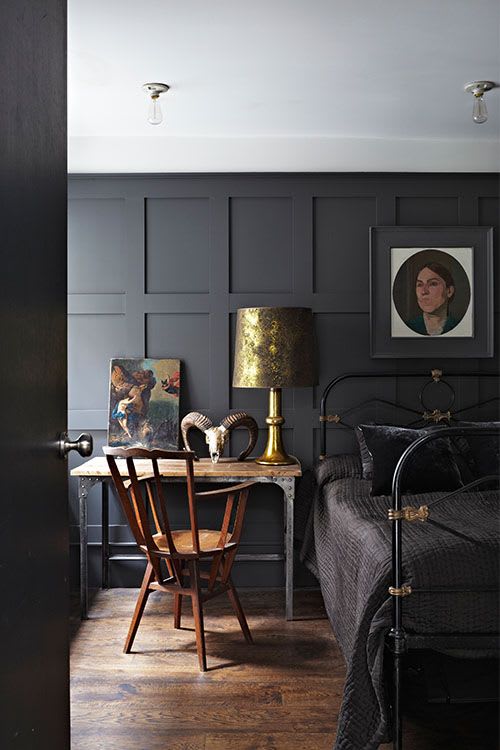 Photo from Farrow and Ball